Facilities and Accessibility
About Worthing Crematorium facilities
We accommodate traditional religious funeral services and all other alternative forms of farewell.
Whether we have contact with you or your funeral director we hope to place as few restrictions as possible on the service you require.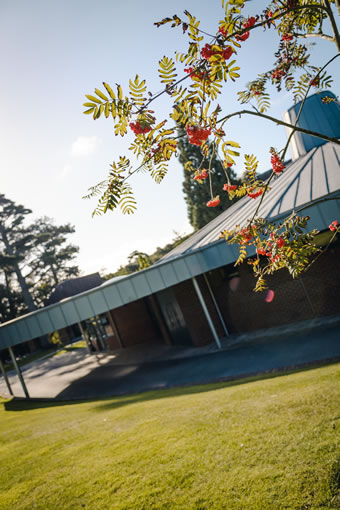 We appreciate every service is individual and are happy to discuss ways in which personal tributes and reflections of your loved one can be made as the focal point for the funeral service.
Facilities at the Crematorium include:
All our cremators will accept coffins up to 1 metre (40") wide.
Want to know more about what we do at the Crematorium?
We recognise that not everyone understands what happens behind the scenes of a crematorium. If you would like a better understanding of the operation at Worthing Crematorium, please contact us to arrange a visit:
Accessibility at Worthing Crematorium

Access to the general enquiries office, Kingswood Chapel, Muntham Chapel and Remembrance Room are all level access (no steps).
The Crematorium buildings are all wheelchair accessible and we have a wheelchair available for use if required.
The grounds are generally level, but there are some sloped areas. Much of the grounds are grassed with planted trees/woodland areas. The paths are a mix of tarmac, gravel, bark and grass surfaces (see 'site map' below for details of path surfaces).
There are induction loops for the hearing impaired in the general enquiries office, Kingswood Chapel and Muntham Chapel (T-position).
Toilet facilities include disabled and baby change facilities and are open when the crematorium buildings are open (see 'building layout diagram' below for details of opening times).
Disabled parking spaces are available (see 'site map' below for car park locations):
Kingswood car park: 5 disabled spaces
Muntham car parks: 3 disabled spaces
Overflow car park: 3 disabled spaces (near the ribbon and memorial gardens)
There are a number of large print hymn books and bibles available, but no braille copies or projector facilities.
See also:
Diagram showing details of the buildings, chapels and toilets (and toilet opening times), and the general enquiry office:

Worthing Crematorium - building layout (120KB)
Diagram showing details of the grounds, car parks and type of paths around the grounds:

Worthing Crematorium site map (2,949KB)
Want to know more?
If you have any queries about accessibility please contact us.